Hi Guys. Sorry for not posting. If Ella does not post. Please leave a comment. I also know it is Non-WinX related. I want to post this because it is about fairies. It is about Ripple Star ( A planet from Nintedo that features Fairies ). Here is the screenshot of the planet:
Read Everything about it!
"

Ripple Star is a planet from Kirby 64: The Crystal Shards. It is Ribbon's home and only other star to Pop Star that has seriously suffered by Dark Matter's infection. It is a star home to the fairies, and is heart-shaped. Ripple Star is the 6th level in Kirby 64. It comes after Shiver Star, and before Dark Star.
When Ripple Star is first seen, it is severely corrupted by Dark Matter. However, after Dark Star is created, it is shown on the map screen as cleared of Dark Matter.
The boss of Ripple Star is Miracle Matter, posing as the "final boss", if the player hasn't collected all of the Crystal Shards yet. Once the player collects all of the crystal shards and defeat Miracle Matter again, they can access the final level, where the true final boss is fought, Zero Two. Once Zero Two is defeated, the Dark Matter withdraws itself from Ripple Star and explodes in the distance.
"
( I know it is pretty long. Sorry. If I did a mistake. )
Here are a few pictures of the fairies!
The Blonde fairy looks exactly like Stella! How many simmilarities can you find? And does the blue-haired Fairy resemble Dawn from Pokemon? Hmmm.... And the one with green hair resembles Lucy!
A few more things, below is Ribbon and her " Size " Glitch and the introduction to Queen Fairy.
This is Ribbon, she is a hero. Since she is named after Ribbon, that is becuase of the ribbon on her head. She might like the color red. Her hair is that of a hotpink messy,shaggy hair.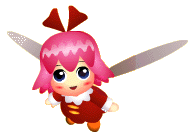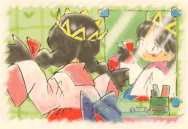 Meet Queen Fairy. She is the Queen of Ripple Star. I don't know about her much. But I know she's a little clumsy.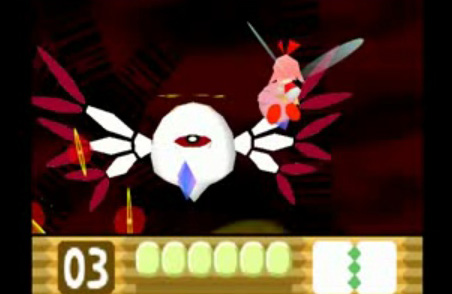 Here is a Glitch. I know there is a second one. But I think I might post it tommorow. It is

Ribbon's

height. She is extremeley tiny. And a little too weak to carry Kirby ( Not a fairy but this puffball's bio will be posted by me soon. ). But look! She is so Strong to carry Kirby. Also I will put another Glitch I'll call it " Ribbon's Gown ".
Note: On the Picture the guy thier fighting is NOT a fairy. A MONSTER REVIVED!